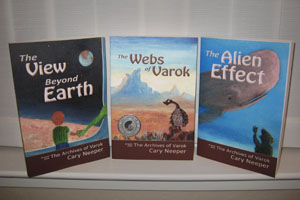 We're in the final editing stages for book IV in Cary Neeper's Archives of Varok series. An Alien's Quest travels with Tandra Grey's mixed family to the outer reaches of our solar system, to the dark planet Ellason. Investigating worrisome conflicts in the population there, the human, elll, and varok companions define a new sense of their own family, and peace with the past.
An Alien's Quest completes the saga of the mixed alien family introduced in books I–III:
Read more about the books on the series website: ArchivesofVarok.com.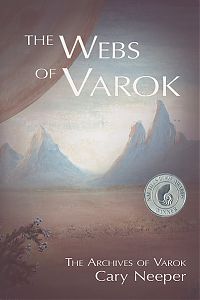 We are honored to announce that Cary Neeper's novel The Webs of Varok has received a silver medal in young adult/teen fiction from the Nautilus Book Awards, and has been named a science fiction finalist in the ForeWord Book of the Year Awards. The Nautilus awards recognize print books of all genres that inspire readers to explore new possibilities for positive change, whether personal, social or global. The ForeWord Book of the Year Awards awards recognize outstanding books from independent and academic presses.
"engaging, multi-layered, provocative, and above all relevant to the times" —Frank Kaminski, book reviewer, Resilience.org
Paperback and hardcover editions are distributed by Ingram and available on Amazon.com and BarnesandNoble.com and more; e-books are available in editions for the Barnes and Noble Nook and Amazon Kindle. Read more about the book, including free preview chapters, at ArchivesofVarok.com.
Silver medalist, teen/YA fiction—Nautilus Book Awards 2013
Finalist, science fiction—ForeWord Book of the Year Awards 2012