Silver medalist, teen/YA fiction—Nautilus Book Awards 2013
Finalist, science fiction—ForeWord Book of the Year Awards 2012
Thanks to everyone who came by to say 'hello' during Cary Neeper's signing event, June 30 at the annual American Library Association meeting in Chicago. Cary signed and gave away nearly 50 copies of her Nautilus silver medalist, The Webs of Varok, and enjoyed talking with attendees about the promise of positive, sustainability-focused science fiction for young adults.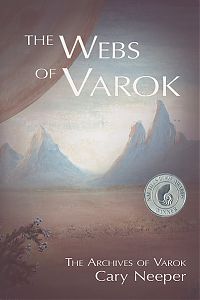 We are honored to announce that Cary Neeper's novel The Webs of Varok has received a silver medal in young adult/teen fiction from the Nautilus Book Awards, and has been named a science fiction finalist in the ForeWord Book of the Year Awards. The Nautilus awards recognize print books of all genres that inspire readers to explore new possibilities for positive change, whether personal, social or global. The ForeWord Book of the Year Awards awards recognize outstanding books from independent and academic presses.
"engaging, multi-layered, provocative, and above all relevant to the times" —Frank Kaminski, book reviewer, Resilience.org
Paperback and hardcover editions are distributed by Ingram and available on Amazon.com and BarnesandNoble.com and more; e-books are available in editions for the Barnes and Noble Nook and Amazon Kindle. Read more about the book, including free preview chapters, at ArchivesofVarok.com.
Coming Soon
Mak the Martian has been studying Earth since he was just a little bud, and he gets more curious with every martian day. A NASA rocket launch raises the stakes—is Earth attacking? Mak and his friends use every trick in their bag—and learn some new ones—in their quest to find out.
Landing on Earth in 2013
Launching the Mak the Martiantm series of adventure books, Mak the Explorer will be available in hardcover, paperback and ebook formats, with free learning activities and teacher materials online at MaktheMartian.com. Read more about Mak's upcoming adventures under Children's Fiction.
Life finds Curiosity on Mars
Join Mak the Martian for the Mars Curiosity landing in his YouTube debut.