'The Webs of Varok' receives Nautilus Book Award
May 8, 2013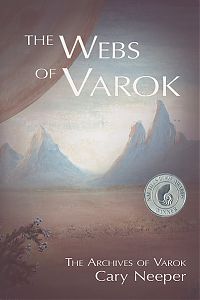 We are honored to announce that Cary Neeper's novel The Webs of Varok has been named a silver medalist in the 2013 Nautilus Book Awards. In keeping with the motto "Better Books for a Better World," the Nautilus awards recognize print books that inspire readers to explore new possibilities for positive change, whether personal, social or global.
Released in December 2012, The Webs of Varok follows the human and alien cast from Neeper's 1975 firstcontact novel A Place Beyond Man as they leave a troubled 21st Century Earth for the promise of stability on a veiled moon of Jupiter. This young‐adult/crossover science fiction novel explores solutions for a sustainable and equitable economy through the adventures of its multi‐world family, as they untangle a web of deceit to protect their new home and their family bonds.
"The Webs of Varok is the story of a mixed family gambling their trust in each other against the power of greed," Neeper said. "Their challenges and progress on an alien world threatened by overgrowth portray in fiction some positive solutions to our current dilemmas here on Earth." Free preview chapters and additional material from the book are available on the Archives of Varok series website at ArchivesofVarok.com.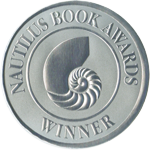 The Nautilus Book Awards marked their 13th year with the 2013 awards announcement. Nautilus Book Awards Silver and Gold Winners are selected in a three-tier judging process by experienced teams of book reviewers, librarians, authors, editors, book store owners, and leaders in the publishing industry. The award website notes: "Gold and Silver awards are given to print books of exceptional merit that make a literary and heartfelt contribution to spiritual growth, conscious living, high‐level wellness, green values, responsible leadership and positive social change, as well as to the worlds of art, creativity and inspiration." More information about the awards and their library of winning titles is available at www.nautilusbookawards.com/.
"Winning the Nautilus award feels wonderful," Neeper said, "like passing a final exam after a 40-year class in writing, illustrating steady state economics, and fleshing out likeable aliens. I also feel deep gratitude, for credit belongs equally to my publisher, whose rigorous editing, deep love for the stories, and care for their message gave them their award-winning literary quality."
Learn more. . .
Find the full press release, book details, author photos and cover images in the Webs of Varok press kit.