'The Webs of Varok' named finalist in the 2012 ForeWord Book of the Year Awards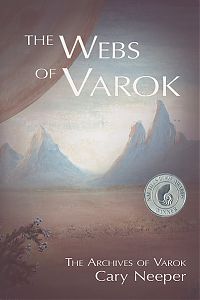 March 11, 2013
We are pleased to announce that Cary Neeper's novel The Webs of Varok has been selected as a science fiction finalist in the ForeWord Reviews 2012 Book of the Year Awards. The awards recognize outstanding books from independent and academic presses.
ForeWord's judges chose the finalists from among 1300 entries divided across 62 categories. The Webs of Varok was selected as a finalist in the Science Fiction category. Over the next two months, ForeWord's panel of sixty judges, librarians and booksellers will determine the winners of Gold, Silver, and Bronze awards in each category, as well as Editor's Choice Prizes for Fiction and Nonfiction. Winners and ForeWord's Independent Publisher of the Year will be announced at the American Library Association Annual Conference in Chicago, June 28.
Since 1998, the quarterly print journal ForeWord Reviews has provided reviews of books from small, alternative, and academic presses. See the ForeWord Reviews website for book reviews and more.
Read more about the awards in the ForeWord Reviews news release:
2012 Book of the Year Award Finalists Announced.